Food Trucks: Friend or Faux?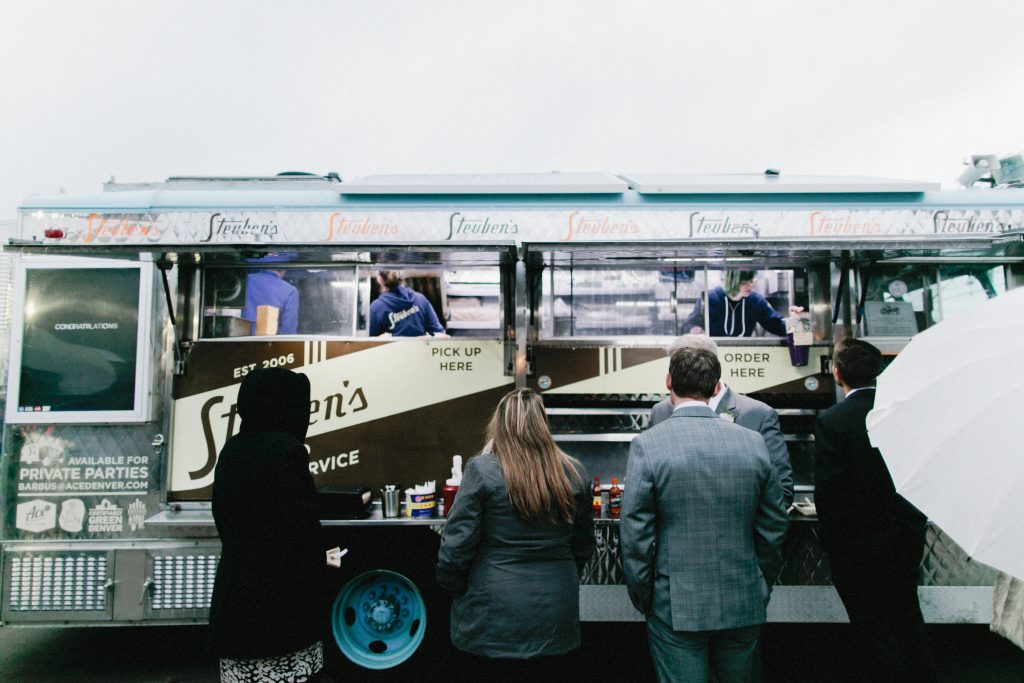 Food trucks are just about everywhere these day! At your favorite farmer's market, parked in front your local brewery, outside of most late night bars and now, Weddings! With the increased popularity of food trucks, we are seeing more and more couples being open to this idea. Whether it's to save money, add a certain local flair or to offer more menu variety to their wedding guests, this trend is happening (ready or not). We of course love this idea, but also wanted to share some helpful tips, should you decide on a meals on wheels approach for your wedding!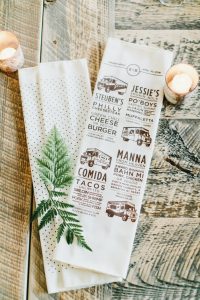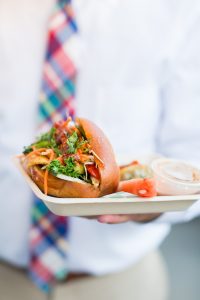 1) Pick the food truck route for the right reasons
In general food trucks inspire a much more casual and laid back dining experience for your guests. If this is one of the main reasons for selecting this style of dining, you are certainly on the right track. Another great reason to hire food trucks for your wedding is to provide some diversity in the types of foods offered to your guests. The more the merrier should certainly be your motto in order to give guests some variety, while also providing enough fuel for your guests to dance the night away.
A common misconception around food trucks is that this route is going to save some serious money, but this is not always the case. Yes, most food trucks are going to have lower minimums ranging from $500-$5000, but when you are thinking about multiple trucks (100% necessary depending on guest count), guests eating at multiple trucks and guests having free range to go back for seconds, this can certainly add up. Each truck is going to have a different way of pricing, whether it be per person or based on consumption, so it is very important to understand and get a good estimate based on your guest count. When you are basing food on consumption, there is always the risk of under budgeting and being shocked the night of your wedding when you write that check. My recommendation is to make sure you are very clear on each truck's pricing process.
2) Parter with a great caterer
Once you have nailed down the perfect trucks for your big day, the next step in ensuring a flawless and enjoyable evening is to partner those trucks with a great caterer. I cannot stress the importance of hiring a caterer in addition to your food trucks enough. One of the most important services a caterer provides is food, but that is certainly not the only job they do. They staff your event to ensure you have a team for overall setup of your event. Think of them as your worker bees, buzzing around to ensure construction of event space (setting up chairs, tables, linens, place setting, water glasses, etc.). I also highly recommend you let them help with any dinner rentals you might need in addition to what each truck is bringing. They are also there to ensure the comfort of your guests by keeping water glasses filled and clearing dirty plates throughout the evening. Your food trucks are going to arrive, serve food and then drive off into the sunset, but your caterer will be there before, during and after your event working with your wedding planner to ensure the event is running smoothly and that your guests are happy. They are also going to be there at the end of the night packing away all trash, breaking down tables and chairs and mopping venue floors to guarantee your full deposit back! They are truly the foundation of an event and crucial to the success of your special day!
3) Pick the right number of trucks for your guest count
This is a tough one because each food truck is going to vary on how quickly they are able to feed a certain number of guests depending on the type of food. Some trucks are able to pound out a lot of food quickly to a large group of people and others, not so much. Any experienced truck will be able to break this down for you, as well as recommend how many trucks you should hire in addition to theirs for your specific guest count. My recommendation, based on past experience, is to have at least 3 trucks for 150 people and even 4 will feed people faster and eliminate line time. Food trucks are so fun, but the day goes by fast and there is lots more to do after dinner, especially if you plan to spend some time on that dancefloor!
4) Logistics, Logistics, Logistics
Insider's Tip: If you hire a wedding planner, you can disregard the below logistical information. Any expert wedding planner will be all over these logistics and remove that stress from your plate altogether.
For this one, let's break it down:
Know your trucks: Make sure that you fully understand what each truck is responsible for. Typically they will provide any materials needed to serve your guests, but you can never be too sure. Check with them on this and then double check! You are also going to want to have a  good line of communication with your trucks. They are going to require a bit more micromanaging until you have established that trust, but over communicating will not hurt when working with a food truck.
Electricity: I know, BORING, but so important. It is likely that by the time dinner rolls around (pun intended), it will be getting dark outside. Make sure to chat with each truck about their power needs. This includes if they need to plug into one of the venue's outlets or if they have their own generator and if they have built in lighting. Some trucks do and some don't, so make sure you ask! Food trucks aren't quite so cute if you can't see them.
Placement/Dimensions: Talk to each truck about their dimensions and how much space they need to pull in and park. I recommend chatting with your planner and venue about where each food truck will pull in and their exact placement on venue property. Sending this layout to your trucks in advance will really help to ensure they are good to go when they arrive onsite.
Timing: Most trucks will want to arrive, power up and begin prepping at least an hour before dinner time. Make sure you plan their arrival at an optimal time. For example, if your ceremony is outside and close to where your food trucks will pull in, make sure you designate someone (your wedding planner) to be in charge of holding them off until the end of your ceremony. How terrible would it be for a loud food truck to pull in just as you are saying "I do". My recommendation would be to have them arrive at the very beginning of cocktail hour, which should give them plenty of time to get ready for the feast!
——-
In case my words have been terrifying rather than helpful, here are some other ways to incorporate the idea of food trucks into your wedding day without all the hassle!
Dessert/Late Night Food Truck: After a great dinner and some toasts, imagine your guests walking outside to a fab truck filled with desserts or sliders. Such a fun surprise element and is sure to fulfill your fancy of mobile dining.
Bar Truck: Mobile bars are popping up everywhere. They are cute, unique and who doesn't love drinks on the go! Here is one in Denver that might just wet your whistle: http://www.mycocktailcaravan.com
Coffee Truck: This one is for all those caffeine addicts who scoff at the sad coffee station with plain ole black coffee with one creamer option. Again, these are popping up everywhere so don't be afraid to add some creative java to your wedding day!
Photo Booth Bus: Ok, so darn cute, right!? Here is one we love in Colorado: http://theshutterbus.com
And when all else fails, you can send your food truck dreams to the place where all wedding ideas deemed inappropiate, unacceptable, too casual or nontraditional go: REHEARSAL DINNER!