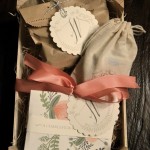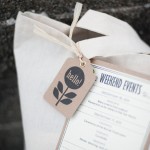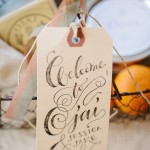 Greet your out of town guests with a customized welcome bag or basket at the hotel. These bags add a nice touch and really show your guests how much you appreciate them traveling to help you celebrate your big day! To help you create a great welcome bag or basket we have put together a checklist to make sure you have everything!
1. Itinerary– Make sure guests have an itinerary of the weekend's events to keep them in the loop.
2. Snack and/or Drink– Add your favorite candy or a treat related to the city. For example, for an Atlanta wedding a glass bottle of Coca-Cola, a peach, bag of peanuts, or a cookie in the shape of Georgia.
3. Small Keep Sake-Include a small keep sake for your guests to take home with them. Some great ideas are a small candle, a hand cream, or a personalized magnet.
4. Map of the City– It's nice to list a few local places for guests to enjoy dinner, local shops, or some great tourist spots. Just make sure they have their itinerary handy so they are on time to your big event!
5. A Thank You Note– The final touch is a thank you note, this will really let your out of town guests know you appreciate them being a part of your wedding day. Use pretty paper and a fancy font to make it look hand written.
Don't forget the bag or basket! Using a small canvas tote or basket is a great option because it allows your guests to reuse it! Get the canvas bags screen-printed with you and you groom's names and the date or use a large tag on the baskets.  Get creative and add you and your groom's own personal touch!