I know all of my previous and current brides have been anxious to see wedding photos and hear all about it, so what better than a detailed blog post! And here it goes….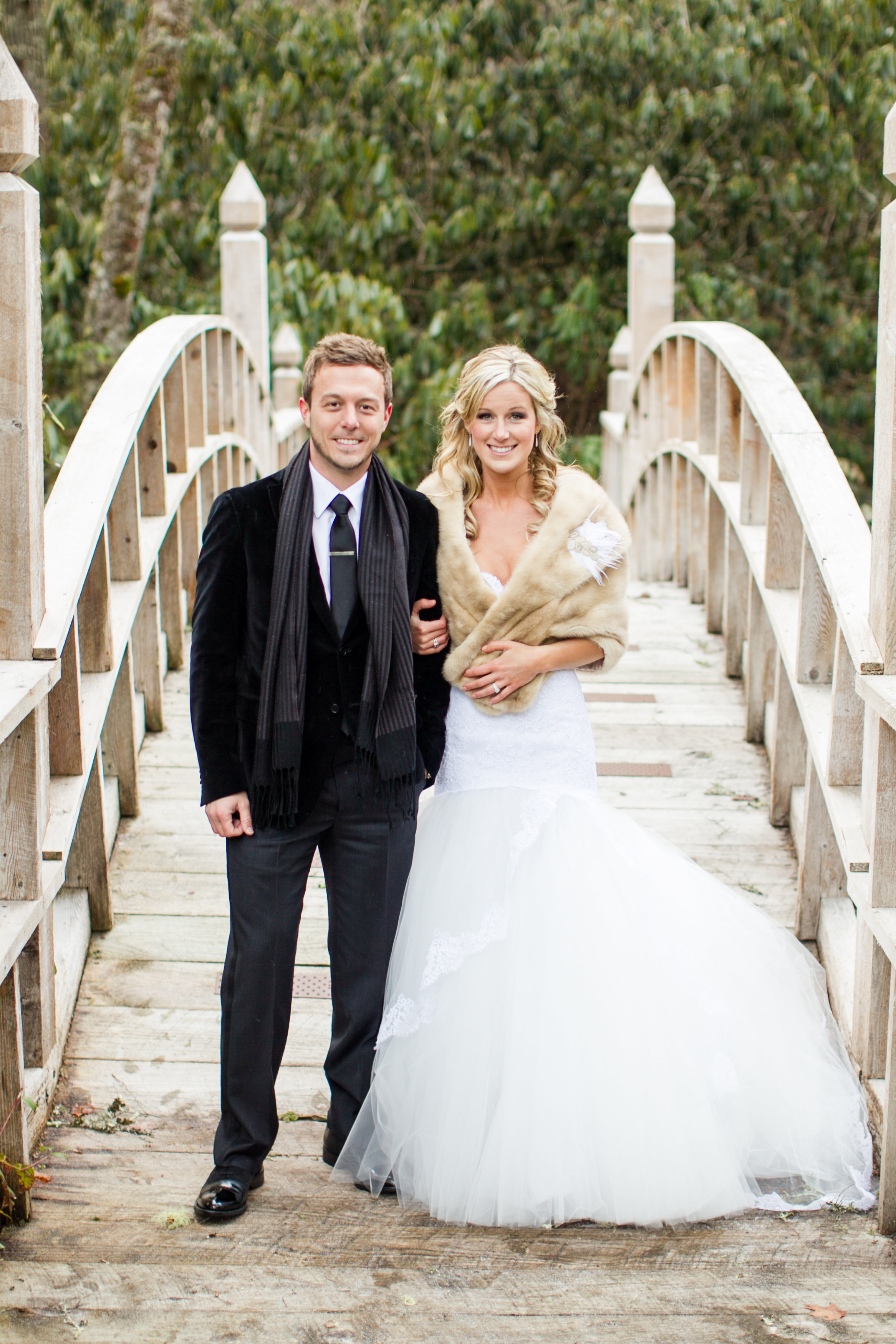 I am not that girl that had her wedding planned since a little girl, believe it or not! I think that's the best way to go about it though because you don't have your heart set on a specific month or season of the year, or a specific theme in mind. Between my wedding schedule and Davis' schedule we were very limited to having the wedding in December. Most brides would say this is not the ideal month for their wedding, but in the end you have to remember you're just finally getting to marry the man of your dreams!! So, December 29th it was… As soon as we picked the date, I immediately was thinking a dreamy "Winter Wonderland" wedding! Having worked at the majority of the wedding venues in Atlanta, I wanted to do something a little different, a destination wedding but not too far for everyone. That's when I decided the Farm at Old Edwards Inn would be perfect. The glassed in Pavillion made for a beautiful outdoor view but still keeping everyone warm. This extraordinary venue is located in the beautiful mountains of Highlands, NC. which added to the theme that much more.
I must say the most enjoyable part of the entire planning process was designing the reception, but that's my favorite part of helping every bride! The venue was rustic but very elegant and classy. With it being during the Holidays, I wanted to keep it a little more formal and romantic. One of my favorite aspects to the tablescapes would have to be the sequin table linens for our estate table… a huge thank you to La Tavola for helping make this dream come true! Another one of my favorite elements was adding snow around every centerpiece on each table, it just completed the theme so perfectly! Our florist, Boukates, went over and beyond everything I had ever dreamed of… she executed my ideas so perfectly and even added a few surprises. One of the most rewarding moments of this entire process was when my event coordinators brought myself, Davis and my sister into the reception before any of the guest came in. I literally just kept spinning circles, tearing up and looking at how perfectly everything came together. All of that hard work, phone calls with my sister and mom, inspiration, diagrams, directions, ideas and dreams all came to life immediately! I can literally say our entire wedding was a dream come true, all thanks to my incredible vendors that I put all of my trust into.
The one thing that stressed me out was the weather forecast, because that was the one thing completely out of my control. Back in February when we got engaged I was nervous about having a wedding in the mountains during the winter season… thinking what if we get icy roads and nobody can make it up the mountain. That was when I decided it was time to trust God that He would allow for ideal weather on our wedding day. We really didn't have many other options for a date! So I just had to keep reminding myself of this… especially when I woke up the morning of our wedding and it was pouring down rain for hours, and then to sleet and back to cold rain. About 20 minutes before I put my dress on, literally not a cloud in the sky or a single rain drop. So we all rushed outside for our photos to begin. About 10 minutes into photos, still not a cloud in the sky, it starts snowing!!!! It was such a dream! I had always thought in the back of my head, I wish it would snow, but only for a little bit and not stick so guest can still drive up the mountain… but wait I want it sunny too. Well it happened! I will say though, it was absolutely freezing at moments and towards the end of photos I couldn't feel my fingers. Thank goodness for the UGG boots that I wore the majority of the time! The weather then cleared up for the rest of the day but just in time for our sparkler exit, it started snowing again! Such a perfect dream come true as we drove all the way back to our hotel in the snow.
So with all of that said, the most magical day of my life happened on December 29th 2012, and I will never forget marrying the man of my dreams. This wasn't all about the perfect décor and crazy weather… it was the fact Davis and I waited so patiently for four and a half years for this day. I hope every bride will keep this in the back of their mind, as the planning can get stressful at times. You only get to have one wedding day with this man, enjoy every moment of it and take it all in because it flies by way too fast. It was just a bonus how perfectly smooth my entire day went!
This day could not have been as perfect as it was with out my amazing Matron of Honor (my sister/ wedding planner), parents and brother that immediately jumped in helping as soon as they all could. Not to mention I had 3 bridesmaids that are wedding planners, that helps a ton! A special thanks to our photographer, Mike Larson, for flying from California to share this special day with us and capture these incredible photos!