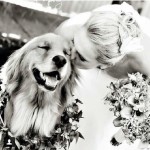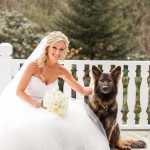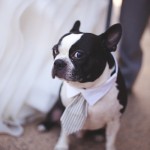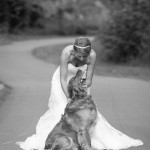 On your wedding day it's important to include family and friends in your celebration. This includes your four-legged, furry friends! More and more brides are having their dog a part of the ceremony. Whether they act as the flower dog, ring bearer, or if they are just escorted down the aisle by a bridesmaid or groomsmen having your pup in the ceremony is a great way to incorporate them into your special day. If your dog will allow, place a wreath of flowers around her neck or a black bow tie to dress them up appropriately. If you plan on having your pup in your wedding here are a few things to consider:
Bring them to the rehearsal and let them get familiar with the scents at the ceremony site.
Keeping them on the leash during the ceremony will help control their behavior. Even if they are well behaved, we don't want them to steal the show!
Assign someone to be the "dog handler" leading up to the ceremony and after to take them home. You and your immediate family will have enough going on and will not want to be in charge of keeping an eye on your pooch.
Make sure the "dog handler" takes the dog potty before the ceremony begins, we don't want any accidents!
Pose for a few photos with your pup then have someone take him or her home, we would advise you not bring the dog to the reception! They will be there waiting for you with a wagging tail when you return home!