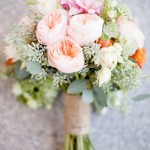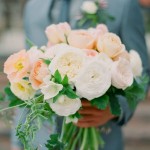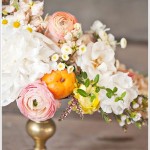 Picking the right flowers for your wedding is one of the most important factors of your big day! Choosing the right palette of colors will determine the over all feel of your wedding and will also make everything cohesive. Flowers that are in season at the time of your wedding will help determine cost. Doing your homework will help you select the perfect bouquets and arrangements. Here are a few tips for selecting your wedding flowers:
Start with colors and create a few color palette options. Pinterest is a great tool for this but be careful not to get carried away!
Next do some research about certain flowers that you like, see if they are in season at the time of your wedding. Here is a great website to research flowers-  http://www.cutflower.com
Consider the shape of your bouquet and your body type. For example, if you are a petite bride, you don't want to be hidden behind a large bouquet.
Consider the shape of your centerpieces as well. Some examples of arrangements are asymmetrical, organic, or structured.
Also consider the formality of your wedding. Formal bouquets are typically all white, semi-formal have more colorful blooms, and informal can be colorful too but offer a wider variety of flowers.
If you are putting flowers in your hair be sure to pick blooms that will last through pictures or have your florist provide a back up.
Have fun with selecting your flowers and let your personality show! The right flowers offer so much to your big event and can help transform a room! Instead of throwing them out at the end of the night, have family take centerpieces home or donate them to a senior living facility! This way you can enjoy them for your special day then help make someone else's day special too!