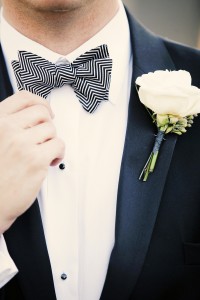 While it is important for the bride to feel like a princess on her wedding day, let's not forget about the groom standing at the altar waiting on you!
Grooms should also take the opportunity to look their best on this special day! Thankfully, there are a lot more options for grooms to look handsome on the day they get to marry their dream girl! We are finding a lot of grooms are mixing it up when it comes to tuxedos. Pairing a velvet jacket with tux pants gives a nice texture, and is perfect for winter weddings. If you are planning an outdoor wedding the guys will look great in tan or light grey suits. For more casual events groom and groomsmen are opting for tailored jeans and a nice jacket. For formal weddings I love the look of white dinner jackets and of course they can never go wrong with the classic black and white tuxedo. Pairing a brightly colored tie or bowtie can add a playful touch to your wedding party and will show off your groom's personality.
Making sure the groom is comfortable and confident in his wedding day attire is an important detail that should not be overlooked! Also, making sure that you and your groom's look are cohesive is important. Bride's should never look more formal that their groom! Instead, the formality of your attire should match, this will ensure a picture perfect bride and groom!