Have you considered that your 'Virtual Wedding Planner' is not in your pocket on your wedding day?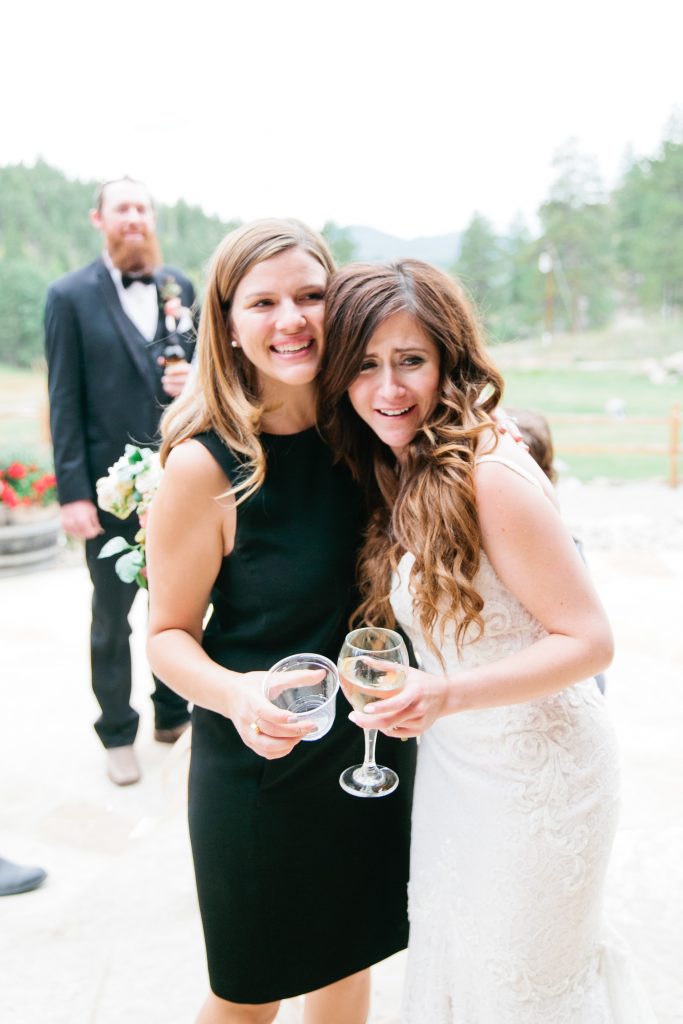 I am a wedding planner. And as a wedding planner, I believe that a big part of my job is to help educate couples through their wedding planning process so that they have an enjoyable engagement and an amazing wedding. And right now I am seeing a frightening trend that I feel compelled to warn you about. It is a trend that you may believe will be convenient and save you money, but in fact, it will cost you more and leave you frustrated and disappointed on your wedding day.
There are a number of industry leading resource and inspiration websites that are claiming that they can be your wedding planner. They say that they are all you need, you are being mislead. Now you may think that I am biased because I am a wedding planner. You may think I'm just afraid they will steal business away from our company. That is not true and I want to share why I don't believe a website or an app would be a good wedding planner.
Meet Jackie (not her real name), who moments before she is about to walk down the aisle has an officer of the court show up to her wedding to serve her soon to be husband papers from his ex girlfriend. Jackie made it down the aisle without stress because her real human wedding planner stepped in, handled the officer and made him sit through a 2 hour catholic ceremony before talking to my bride and groom on their special day…she didn't even know he was there, thanks to my team and the groom handled it gracefully after the ceremony was complete.
Poor Mandy (not her real name), her brother was officiating her wedding and was so nervous that he started the ceremony before Mandy had even come down the aisle. Had it not been for our team waiving our arms in the background to get his attention, he might not have realized it until it was time to "kiss the bride"!
Here is a story about Sarah (not her real name) who's actual human wedding planner showed up to start setting up for her dream day only to discover that the rental company had sent the wrong number of linens and there were not enough to cover all the tables that she wanted displayed. With a lot of creativity and actual human strength our team was able to redesign the space with what we had and she never knew the difference and most importantly never experienced an ounce of stress over because we handled it.
Meet Lucy (not her real name), who had always dreamed of an outdoor lakeside wedding but half an hour before her ceremony a mighty storm blew in and her real life wedding planner, along with a few strong men, picked up her fully decorated iron gazebo and moved it inside, through two small doors, so that she could have her garden feel sheltered from the storm…and no, there was no time to disassemble, move it appropriately and then reassemble. Lucy sent me a picture of our team moving this beast after her wedding say, "I had no idea what you all had to go through to make this happen for me, thank you!"
I could go on for days…and in fact I think I'm going to write a book of all the hilarious and yet almost catastrophic events that were dodged because a real human wedding planner was there, ready and equipped to save the day and eliminate any chance of stress on behalf of the couple or their families.
How can an app or a website even pretend to stand in and offer that same level of service? Will your app provide your vendors with a full electrical diagram for your private estate wedding? Will
your app call your chair rental company to say you have 10 last minute guest cancelations and get you a refund? Will your app alphabetize all of your escort cards when you run of of time?
A great wedding planner is not just a resource for finding vendors. Although we will help you do that. A great wedding planner is a person that you trust to come along side you as a couple to help you navigate the wild adventure of engagement. Your wedding planner is there to eliminate the stress of the unknown and uncover the joy of celebrating your new life together. And as he or she grows to understand your vision for your wedding, will assemble a team of vendors to execute your vision flawlessly, stepping in to handle any potential missteps so you never have to think or worry about it.
Until Dr. Ford leaves Westworld to create wedding planning robots, I really don't see there being any substitute for the real thing!